Haijiang Zhou Attended the Yangtze River Delta Private Economy Cross-Regional Industry Collaborative Development Forum
Published in: 2021-10-21
On October 20, the Inter-regional industrial collaborative development Forum of private economy in Yangtze River Delta sponsored by Taizhou Municipal Government was held in Xuzhou. Leaders from the All-China Federation of Industry and Commerce, Yangtze River Delta Regional Cooperation Office and Taizhou addressed the meeting. Haijiang Zhou, the vice-chairman of Yangtze River Delta Entrepreneurs Alliance and chairman of the board of Directors of HOdo Group, delivered a speech on behalf of the Yangtze River Delta entrepreneurs Alliance.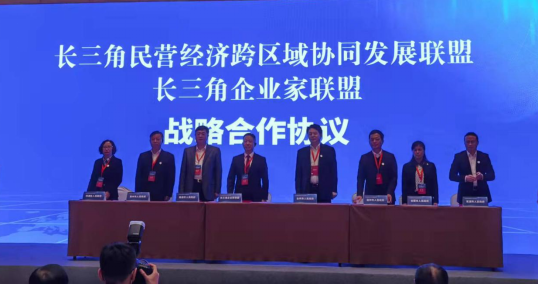 The Yangtze River Delta Entrepreneurs Alliance was formally established in Huzhou, Zhejiang province on June 5, 2020. It is mainly composed of leading enterprises in critical industries and pillar industries encouraged and supported by The Yangtze River Delta region.
As the vice-chairman of The Yangtze River Delta Entrepreneur Alliance, HOdo Group has always improved its position and conscientiously performed its duties, actively seized the strategic opportunities of the integration of The Yangtze River Delta, led the establishment of the innovative retail industry chain alliance of the Yangtze River Delta, and helped the integration development of the Yangtze River Delta.
Regarding how to better carry out the "Yangtze river delta regional integration development plan outline," how to better stimulate the vitality of private enterprises, how to better promote the inter-district industry coordinated development, Haijiang Zhou talked about his own views to further strengthen industry together, to further strengthen innovation fusion, to further optimize the business environment and so on three aspects.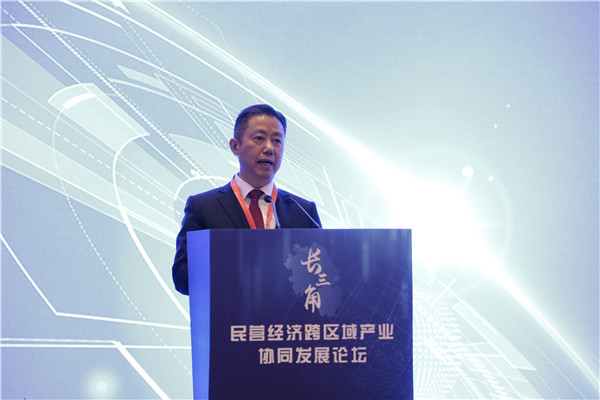 The chairman of the board of directors of HOdo Group, Haijiang Zhou, is delivering a speech
As a representative of the Yangtze River delta entrepreneurs union chairman Haijiang Zhou signed "Yangtze River Delta Entrepreneurs Alliance and the Coordinated Development of the Private Economy of Yangtze River Delta Cross-Regional Coalition City Cooperation Agreement along with the leaders from Shanghai Yangpu District, Changzhou city, Jiangsu Province, Nantong City, Jiangsu Province, Wenzhou City, Zhejiang Province, Taizhou City, Zhejiang Province, Hefei City, Anhui Province, Wuhu City, Anhui province and other seven cities leaders (Source: Xinhua)